Bruce Arians: 2020 With Jameis Would Mean "Really Tough Love"
March 6th, 2020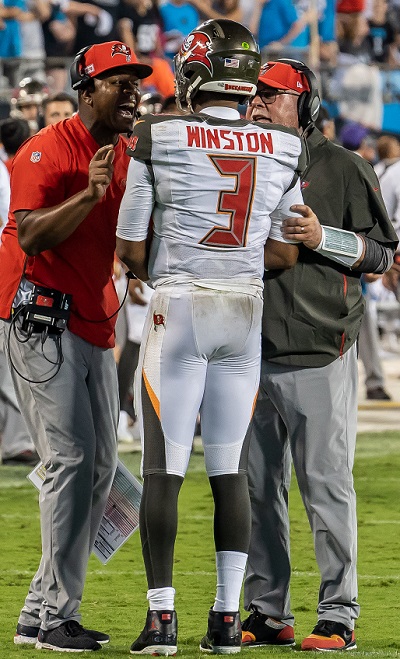 Fans and media never really know what goes on behind the scenes.
It's important to realize that coaches and general managers say all kinds of BS all the time. They believe that's part of their job, so when Joe gets "intel," well, Joe typically is very skeptical.
(However, that cynicism wasn't in play when Joe announced on Jan. 4, 2019, that the Bucs had decided on a new coach and would announce it four days later. Boy, what fun it was to see other local media whine like infants, scream fake news, and Twitter innuendo without the balls to name Joe. What a special bunch.)
Joe brings up behind-the-scenes unknown today because of Bucco Bruce Arians' recent commentary on FOX Sports.
How did the Bucs handle Jameis last season when he made bad mistakes? That's unclear. The only obvious truth is that the Bucs didn't want Jameis looking over his shoulder at an A-list backup quarterback or a talented rookie, so maybe because of that they were more gentle on him from Day 1 in a new system.
Arians was asked, "How long does Bruce Arians the mentor put your arms around Jameis and when does it become tough love with Jameis?"

His reply, "Oh, if we stay in this direction, it'd be really tough love this year," Arians replied. "I mean, it was a lot of it last year. I thought Byron Leftwich did a great job with him. Clyde Christensen, his deep ball accuracy was tremendously improved. Still, some of those decisions we've got to fix."
Joe continues to find it noteworthy that it always feels like Arians, when speaking publicly, puts a huge, whopping share of the blame on Jameis versus on the heralded quarterback gurus around him.
Will tougher love be important for Jameis 2020? Arians seems to think so.