Bruce Arians On Tom Brady — Two Weeks Before The Head Coach Was Hired By The Bucs
March 30th, 2020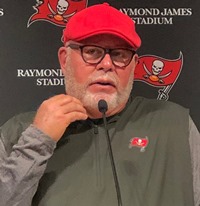 For Joe, "shelter in place" means endless football watching and a steady diet of Burger Monger and Big Storm Brewing Co. beer and food.
Yesterday, Joe watched the Bills-Patriots game on December 23, 2018, in which Bucs Bruce Arians was a game analyst for CBS.
So what did Arians have to say about Tom Brady and what did Brady do in the game, a 24-12 Patriots win at home?
Here are highlights:
*For starters, the Patriots rushed for 179 yards in the first half. Joe hopes Brady doesn't expect anything like that output in Tampa.
*Brady's first throw was a drop by wide receiver Julian Edelman. The opening drive ended with Brady throwing a pass that was a dropped pick-6 possibility by then-rookie Bills LB Tremaine Edmunds.
*Arians loved the "wham" blocking by the New England fullback and tight ends, and the overall "wham" play by the Patriots. He makes an obscure reference to Dan Henning coaching the Falcons 35 years ago. (Yes, Arians was a bad announcer.)
*At one point in the first quarter, Brady benefited from 11 consecutive rushes.
*Arians raved about the diversity in the run game by offensive coordinator Josh McDaniels. This got Joe wondering where were Bucs coaches scheming the run game to match Bucs running backs last season.
*Interesting to hear Arians talk about inexcusable pre-snap penalties.
*Arians expressed his surprise that the Patriots ran a draw play on 3rd-and-21. He noted in past years that would have been a throw to Rob Gronkowski down the seam. (Gronk was in the game.)
*New England ran a healthy share of two-running-back sets. Don't expect to see that in Tampa.
*Arians talked about the Patriots' "need for a deep threat" and he was high on running back James White's ability to be a real wide receiver threat, in addition to his rushing ability.
*Uh, oh, Brady threw a very ugly first-half pick to Bills linebacker Lorenzo Alexander. A 10-yard throw and Brady clearly didn't see Alexander.
*Gronk has an ugly drop that is picked off to start the second half.
*That was Brady's third multi-interception game of the season. He finished with 11 picks on the 2018 regular season and three in three playoff games.
*Brady is criticized for bad feet on a 3rd-and-4 incompletion by Arians' broadcast partner and former NFL QB Trent Green. Arians agrees.
*On a 3rd-and-6 play in the second half, Arians didn't like how quickly Brady threw short. The result was a short gain and a punt. Arians noted Brady "must have really liked that [1-on-1] matchup" to the running back.
*"I'm just surprised they haven't taken one shot down the field," Arians said of Brady and Patriots early in the fourth quarter.
*The 33-yard TD pass that iced the game was a 4th-and-4 perfect slant pass throw by Brady to Edelman, who took it in stride and to the house.
*Brady missed a wide open James White on a 2nd-and-7 throw in the fourth quarter and was very unhappy with himself.
*Brady's final scoring drive started on the Bills' 24 yard line after a great punt return.
*Arians was impressed with the ground push of the Patriots' offensive line and the patience of their running backs.
*Brady backup Brian Hoyer came in for Brady to finish the last half of the fourth quarter. Arians noted Brady didn't have a Brady day and he didn't play well enough to win in January. Arians added that so many rushes by the Patriots might have thrown Brady out of a rhythm.