A Brady Signing Should Help Lure Ndamukong Suh
March 17th, 2020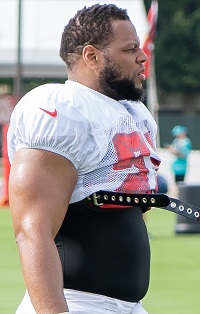 Yes, Joe thinks 33-year-old Ndamukong Suh is more interested in cash and business than a Super Bowl ring. There's no crime in that, and it doesn't mean Suh isn't busting his ass on the field.
Assuming Suh desires to grow his name (nationally and internationally) to enhance his business opportunities, then a Tom Brady signing should help the Bucs lure Suh back for his second season in Tampa.
With Brady in Tampa, the Bucs would get at least five night games next season, in addition to monstrous media attention on the team. That's gotta be attractive to Suh, who currently is a free agent.
Back at the NFL Scouting Combine, general manager Jason Licht said Suh wants to return and the Bucs want him back.
Joe would be totally crazy excited about the Bucs' defensive line next season if Suh were to return and the Bucs drafted a pass rusher in Rounds 1 or 2.