Brady And A Three-Year Deal
March 16th, 2020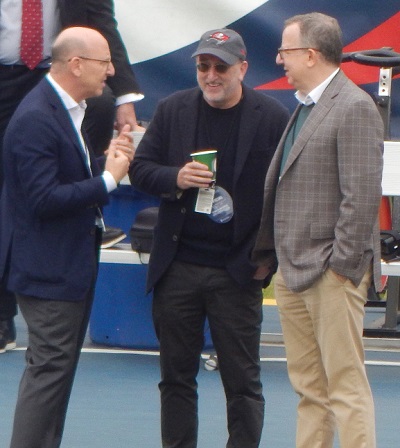 What's the biggest lure the Bucs can offer as they beg Tom Brady to take over and transform their sad-sack franchise?
It's the one thing we all want (no, not a vaccine or the companionship of recently-retired Bucs cheerleaders). It's money! Team Glazer can open the vault in a huge way to Brady.
In fact, Joe would be surprised if Brady isn't getting schmoozed right now by a three-year, $100 million contract, with the understanding that Year 3 evaporates if he retires.
In Year 1, Team Glazer with Brady would make incredible gobs of cash on night games and gear and season ticket sales. In Year 2, Team Glazer could make another fortune on a Brady farewell-tour season through various channels, if Brady announced that or the rumor was floated.
If there is a Year 3, then see Year 2.
And all that time the Bucs could be grooming a talented young quarterback under the wing of Brady and an allegedly legendary crew of quarterback coaches. (Joe believes Team Glazer wouldn't be flat out stupid and not demand a QB be drafted as a 43-year-old legend takes over at franchise quarter.)
Of course, none of this would mean the Bucs win anything, but it would ring the Team Glazer cash register and be great fun for at least a while.
As horrible as Bucs football has been, Joe wouldn't mind a little fun. It also would be nice to re-embrace the casual Bucs fans who have employed social distancing from the team for years.