Two More Years, Says Philip Rivers
February 11th, 2020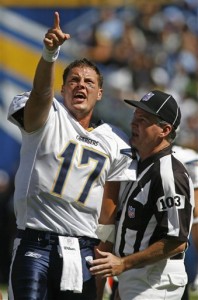 A man who could be the Buccaneer's next quarterback served up candid comments about his future in an exclusive interview with the Los Angeles Times.
Recently-booted Chargers quarterback Philip Rivers erased any doubt (again) about his desired future and explained where his motivation lies.
Here's a snippet:
"I can say for certain that if I'm playing, it's a two-year maximum," Rivers said. "Whoever the suitors are, I think that would be their hope as well. Because you never know how it goes. Shoot, if we stink it up after one year, I'm probably done. If we play really good, they'll probably want to go again.

"Certainly you want a chance to win a championship, but it's not just about that. If you told me right now, 'You're going to play for two years, and you're going to be good. But y'all will not win a Super Bowl. Will you still play?' Heck yeah, I'll still play.

"So it's not like it's a Super Bowl or nothing. But if it's a team where it's going to be tough sledding and they're two years away from even having a chance, and they led the league in most sacks given up or something, then it's, 'I don't think so, guys.'"
Do our beloved Buccaneers fit Rivers' parameters? That depends how you view the team.
But for those wondering, the Bucs allowed 47 sacks last season, 11th-most in the NFL. Obviously, they also dropped back to pass a ton, and Bucco Bruce Arians himself blamed a chunk of those sacks on America's Quarterback, Jameis Winston.
Carolina and Miami (teams linked to Rivers) tied for the NFL lead in sacks allowed last season (58), and Rivers' Chargers allowed just 34.