Shaq Talks Moving Hate & His View On Salary
February 9th, 2020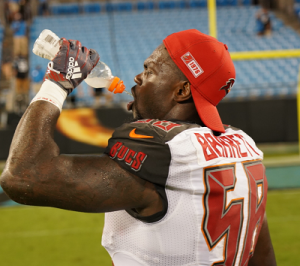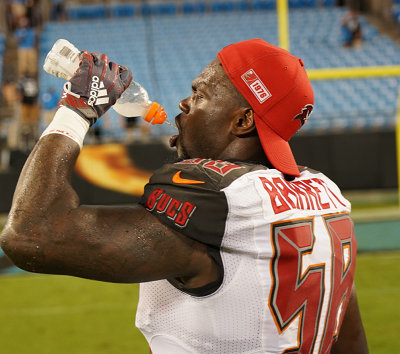 Before the 2019 season ended, Bucs sacks legend Shaq Barrett made it clear that he preferred to keep his family in Tampa rather than relocate to a new team.
On SiriusXM Mad Dog Radio, Shaq clarified his stance.
Interestingly, Shaq explained to Chris "Mad Dog" Russo that he's always hated moving since he was a child and that's why he didn't accept a Division I full scholarship offer in North Dakota. Shaq preferred to stay home in Nebraska to play small school ball at Nebraska-Omaha.
After the school eliminated its football program, Shaq chose to stay in the region and transfer to Colorado State. When he went undrafted in the NFL, Shaq said, he had several offers as an undrafted free agent but took just $10,000 to sign with the Broncos — in order to stay close to home.
That's when Shaq discovered his disdain for taxes. His $10,000 check actually read "$6,500" after the government took its cut, he said. And that's good news for Bucs fans.
Shaq said he's happy to give a little bit of a hometown discount to stay with the Bucs.
"If [other teams] offer me more than Tampa, I'm going to look at the places, if they offer me more than Tampa, I'm going to look at what their taxes is compared to Tampa's. Because I ain't going to live in L.A. and get taxed crazy," Shaq said.

"I'm not going to take drastically less but I am open to doing what I think is best for my career, and I think that would be staying in Tampa."
Joe hopes the Bucs do the intelligent thing and lock up Shaq with a multiyear deal.
With only a little better overall resumé than what Shaq has now, 49ers pass rusher Dee Ford got $33 million guaranteed last offseason. basically the first two years of his new contract. Joe suspects the Bucs could get Shaq for roughly the same commitment.
Shaq Barrett told @MadDogRadio that he's always hated moving. It's a reason he didn't take a full scholarship out of high school, and the reason he signed with the Broncos undrafted out of college. …Says he doesn't want to move his kids/family out of Tampa.

— JoeBucsFan (@JoeBucsFan) February 6, 2020