Ex-Buc To Bruce Arians: Adjust To Jameis Or Get A New Quarterback
February 9th, 2020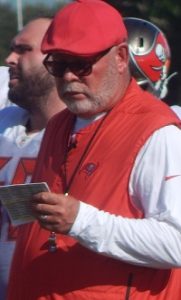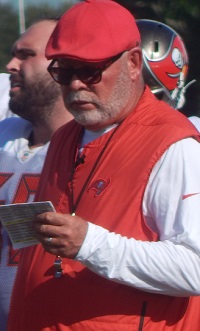 Joe already has written about how the Bucco Bruce Arians regime doesn't appear big on holding coaches accountable — even though Arians says accountability is what makes any great team tick.
Some of the strongest evidence of this is the apparent zero change to the Bucs' coaching staff this offseason — in addition to status quo on the scouting staff.
Former Bucs guard Ian Beckles (1990-1996) was talking about a different area of accountability last week: coaches adjusting to the talent of America's Quarterback, Jameis Winston.
"Last year's offensive roller coaster has made me realize that maybe Jameis isn't the right guy or the right person for this job," Beckles said. "We've talked about how great of a job John Harbaugh did last year of conforming his QB strengths and conforming his offense to [Lamar Jackson]. Well, if Jameis gets the nod this year, I think it's up to Arians and Leftwich to work around Jameis instead of Jameis trying to conform to their system. Because it, obviously, had flaws.

"Jameis may not be the best quarterback in an offense that doesn't focus on the run and takes a bunch of chances. I have zero issues with the Bucs re-signing Jameis. But I'll have a problem if the offense looks the same next year. And you've all heard the definition of ignorance.

"Things have changed. We don't have to score 35 points anymore; our defense has definitely improved. So let's be smart offensively, run the ball more. Let Jameis execute maybe some more RPOs, and let's get to the playoffs again. I know I'm ready."
Joe partly agrees with Beckles. If there is a Year 6 of Jameis — Year 2 under Arians — then adjustments must come to better work around the most turnover-friendly QB in the game.
It's not bad luck or coincidence that Jameis turning over the football at a disturbing rate.
Joe will disagree with Beckles regarding the Bucs' run focus. Tampa Bay ranked 14th in the NFL in rush attempts last season. And that's a big number for a team that trailed in its share of games.
The Bucs absolutely focused on the run. Arians simply dropped the personnel ball when it came to selecting running back talent, building on one of general manager Jason Licht's flaws. Also, the team's run designs certainly weren't effective or creative.
---
ATTENTION GAMBLERS!!! A new WHAT ARE THE ODDS? episode is back from The Identity Tampa Bay. Enjoy!