"His Offensive Line Has Been A Disaster For Years"
February 11th, 2020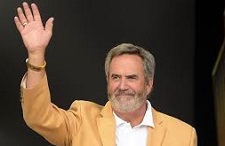 Hall of Fame quarterback Dan Fouts checks in with a take on the NFL offseason quarterback circus.
So what about Philip Rivers getting launched by the Chargers after throwing for 4,615 yards last season with 23 touchdowns and 20 interceptions?
Fouts, the former Chargers great, pays attention to Chargers football and was adamant that Rivers has "two strong years" left in the tank
And most interesting to Joe, Fouts pulled no punches when it came to assigning blame for Rivers' subpar 2019 season.
"His offensive line has been a disaster for years. And he's the one that's been bailing out the offensive line just before the ceiling crashes in on him," Fouts told SiriusXM NFL Radio today.
Could Bucs fans say the same about America's Quarterback, Jameis Winston, and the guys playing in front of him? Some would, but certainly not a majority.
It makes you wonder how good Rivers might be behind a better O-line.
But breathe easy, Jameis lovers. Fouts believes the Colts are the "logical" fit for Rivers in 2020, citing their very strong offensive line and how Rivers' knows head coach Frank Reich's offense.
Co-host Brady Quinn, the former NFL QB, added that Tampa Bay and the Colts are both "logical" spots for Rivers.