Arians & Ownership Have Had The Jameis Talk
February 11th, 2020
BY IRA KAUFMAN
Jameis Winston's fate was always going to be in the hands, heart and mind of Bruce Arians, and that dynamic hasn't changed a bit.
What HAS changed is the fact that discussions between Arians and Buccaneer ownership on this rather sensitive topic have already commenced — if not concluded. Your favorite source for Buc information has learned that the Winston question has indeed been addressed in person by the key parties.
Don't expect any smoke signals to arise from One Buc Place before a course of action is underway, but let there be no doubt that the Glazers and their head coach have met face-to-face, with Winston's future at the top of the agenda.
And while it's unclear exactly what decision has been reached, it's crystal clear that Arians offered the Glazers a full and honest assessment of Winston's future as a starting NFL quarterback.
Why would the man lie?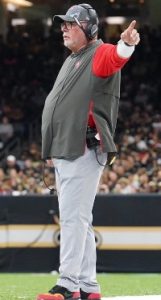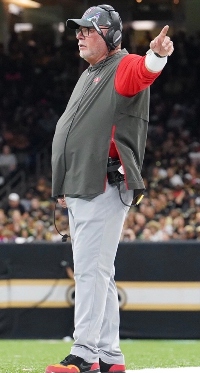 At the age of 67, Tampa Bay's outspoken head coach isn't beholden to anyone, with the exception of Christine Arians. He harbors a great deal of personal affection for Winston, but Arians has a legacy to protect and a short time in which to resurrect his reputation as one of the league's elite coaches.
With two weeks remaining in the regular season, Winston's pewter place under center appeared secure. The Bucs were riding a 4-game winning streak that forged a possibility of a 9-7 finish.
Even Winston's skeptics were muzzled. It was a mere question of how Winston would be retained.
Instead, No. 3 was picked off six times during narrow home losses to Houston and Atlanta that left Arians understandably shaken. After the season finale, Arians declined to offer up any alibis for the most recent flurry of giveaways.
In essence, this is unchartered territory for Arians as a head coach.
Urgency
A few months after Arians arrived in the desert, the Cardinals traded for Carson Palmer. Arians had his man and his man knew Arians had his back.
"I'm here to introduce our starting quarterback and put it to bed," Arians said, "and I'm really happy about it  We are not in that rebuilding stage. This is too good of a football team for a youth movement. We're in it to win and win now."
If Arians felt that way about the 5-11 team he inherited in 2013, imagine what he thinks about the current Bucs. Arians and his hand-picked quarterback had a nice 5-year run in Arizona as Palmer went 38-21-1 in between some major injuries.
They came in together and they went together, announcing their retirements from football within a day of one another at the end of the 2017 season.
Arians wasn't interested in starting anew at the game's most important position, so he headed for the broadcast booth. The Cardinals went on to draft Josh Rosen at No. 10 overall and a 3-13 debacle ensued.
If Arians has lost confidence in Winston, it's hard to imagine ownership overruling him. The Glazers don't relish the thought of starting over.
No Investiture 
Admitting the Bucs made a mistake with the first overall pick in the 2015 draft would be crushing, but Arians wields the power in this town and he wasn't around these parts in 2015.
Arians wanted Vernon Hargreaves jettisoned, so it happened. He wanted Jason Licht retained as GM … done. He wanted Byron Leftwich to call the plays.
Now Arians must call the tune. It's a momentous decision, one of the biggest of his coaching career.
By this point, Arians has watched enough cut-up tapes of Winston's 30 interceptions to fill a few cannisters at NFL Films. Tape don't lie.
Neither will Winston's head coach.