Michael Clayton: Sign A Veteran Or Franchise Jameis
February 6th, 2020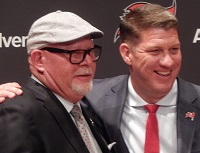 The Buccaneers' mysterious quarterback situation was tackled by former Bucs wide receiver Michael Clayton this week.
The blocking icon had firm words for fans and the powers at One Buc Palace.
This Bucs team is too good to be put in the hands of a rookie, Clayton explained on WDAE radio.
"They don't have a lot of options. Or maybe they don't have a lot of options because we have a lot of hope that some veteran quarterbacks will be a available," Clayton said of the Bucs. "But I don't think that's going to be the reality of the situation. The business of football puts [the Bucs] in a situation where they have the opportunity to lock down Jameis Winston. If you don't lock down a veteran quarterback, the message that you're sending to your team is, 'We really don't care about this season.'

"And from how our defense turned around this year, played very strong against the run, came together at the end, our young guys started to play well, we're right on the cusp, I do believe, of turning this thing around. And with Bruce Arians in his second year, if you don't sign a veteran quarterback it sends a bad message. I say that you have to franchise Jameis Winston …. In my opinion it's not a long term deal because you still want to keep your options open. He has to play himself into a long term deal, and you can give him one more year with a franchise tag."
Clayton went on to repeat that it's either Jameis or another veteran QB in 2020 — or the Bucs have made a mistake.
Are the Bucs really on the cusp? When you're 7-9, can't win at home and you don't know who you're QB is, and you have a lot of key players looking for a fortune, that's not exactly the formula for sitting on the cusp of greatness.
But the Bucs should be on the cusp of improving on the backs of young talent. So that's something good.