Looks Like Goodbye For Breshad Perriman
February 25th, 2020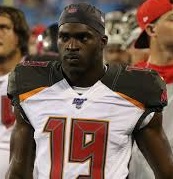 Bucco Bruce Arians appeared to show a few cards in his deck today at the NFL Scouting Combine in Indianapolis.
The Buccaneers have players to sign and are very focused on bringing back their defensive pillars, per Arians and general manager Jason Licht.
But Breshad Perriman isn't in the same priority box.
The NFL Draft is loaded with talent this season; "It's a beauty contest," Arians said, noting you can find any kind of receiver you want in this draft.
Then Arians rolled into talking about his receiving corps and explained he wants Chris Godwin to have a fat contract extension this year, and not wait until Godwin becomes a free agent in 2021.
But for Perriman, Arians drew a cash line in the sand.
"We would love to have Breshad back because he fits what we're looking for but not at a price when you have all these receivers in the draft," Arians said.
It was nice knowing you, Breshad. Joe is certain someone will offer Perriman No. 2 receiver money, and the Bucs aren't going to come close to that.
Licht also praised the emergence of Scotty Miller and Justin Watson.