Lavonte David: "He Do Some Stuff That, You Know, Have You Scratch Your Head"
February 3rd, 2020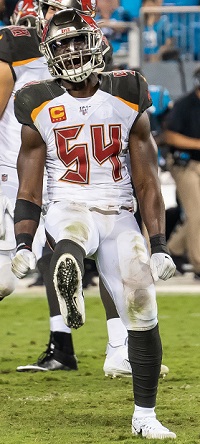 Joe can't stand the Panthers, but Joe has to give it up for retired Carolina receiver Steve Smith's new nickname for America's Quarterback, Jameis Winston.
Speaking with Lavonte David on NFL Network last week, Smith jumped in on a chat about Jameis' highs and lows and referred to the Bucs' 70-game starting QB as "Secret Santa." Funny stuff.
David, however, defended his quarterback and shared his deep affection for Jameis, while also sharing in the frustration of fans.
"I love him, man. I love Jameis, man," David said. "You just gotta, you know, you gotta take what he give you. You know what I mean? Like he's going to give you big numbers. He's going to give you all the wow plays. But at the same time, you know, he do some stuff that, you know, have you scratch your head."
Scratch your head for $100 million [contract]? replied Smith.
David fired back that his teammates love Jameis and his work, and David believes the Buccaneers can get to a Super Bowl with Jameis.
"I see it in him. I know how great he want to be. I love to have him on the field with me," David said of Jameis.
Joe enjoyed various candid takes from Bucs about Jameis during Super Bowl week. (And Joe still has two more good ones to share.)
Are Jameis' highs good enough to tolerate his lows? That's the ultimate question at One Buc Palace.
Of course, one could conclude now that Jameis throwing 30 picks was an anomaly, but at the same time conclude that as a five-year starter who has benefited from excellent coaching and great receiver talent, Jameis has reached his ceiling.