"I've Probably Watched More Offensive Linemen Than I Have In Years"
February 26th, 2020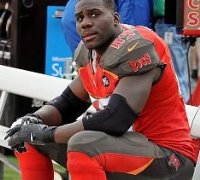 Joe had a question for Bruce Arians yesterday about how he's using his time.
It was a simple pre-draft inquiry at the NFL Scouting Combine in Indianapolis.
Where are you spending most of your time evaluating prospects, Coach?
"I've probably watched more offensive linemen than I have in years, you know, because, again, there's a lot of good quality guys up and down: centers, guards, tackles," Arians said. "I usually like watching skill players more. But I've spent a lot of time this year [on linemen]."
And there was no confusion during various chats with Arians and general manager Jason Licht. Alex Cappa has found a permanent home at right guard, Arians said, and neither Bucs honcho was committing to Demar Dotson at right tackle for 2020.
Licht was asked about the depth of the offensive tackle class and replied, "it's probably better than it's been in the last several years."
Arians said there are "five or six tackles that are big time."