Investment Decisions
February 17th, 2020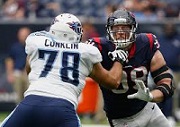 A handful of beastly right tackles in the NFL earn $10 million or more per season.
More left tackles earn that kind of cash, even average ones, but right tackle money is growing quickly in a pass-happy league.
The Bucs have soon-to-be free agent Demar Dotson at right tackle. He earned about $5 million last year and it feels like 80 percent of Bucs fans want the 11-year veteran to have a new team in 2020.
Joe gets it, but just don't blame Dotson for the Bucs' substandard running backs stable, and understand that the Bucs' explosive and dangerous passing game of the past two seasons happened with Dotson manning the right edge.
The Sage of Tampa Bay Sports, Ira Kaufman, along with NFL scouting godfather Gil Brandt, believe the Bucs would be wise pursue one of the big prizes of this year's free agency class, 25-year-old right tackle Jack Conklin of the Titans.
The former No. 8 overall pick (2016) blew his knee out in the playoffs following the 2017 season but bounced back in a big way as a full-timer last season. The Titans declined his fifth-year option after the injury, so he could become a free man next month.
Would the Bucs really sign Conklin and have four starting offensive linemen earning $10 million or more?
Joe is all for building the trenches, but that's a lot of cash for an offensive line that isn't setting the league on fire.
What makes signing Conklin extra intriguing is his age and raw talent. He could be a true cornerstone piece for the Bucs.
Of course, beastly experienced offensive linemen are wonderful to have around a rookie quarterback. And it's possible the Bucs' thinking could be in that direction.