"I Think He's Gone"
February 28th, 2020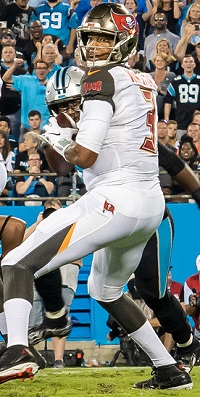 Former Bucs QB Bruce Gradkowski nowadays breaks down quarterback film during football season for Pro Football Focus, and he works for SiriusXM NFL Radio as a host.
Last night Gradkowski told his national audience that he thinks Jameis Winston will very soon be a goner from the Buccaneers.
And then came the agony in his voice, the same kind former coach and quarterback guru Steve Mariucci shared with Joe at the NFL Scouting Combine. Gradkowski watches the game film regularly and, therefore, he knows what Jameis can deliver weekly.
"I think he's gone," Gradkowski said. "I just think it's been long enough, right? You know, he's been in Tampa long enough. The thing that's tough about it, if I'm Tampa I'm thinking, 'Who are you going to sign that's better? I mean, his upside, man, he does some amazing things. But can we cut down those interceptions in half?"
Gradkowski went on to say Jameis is the Bucs' quarterback of last resort and he could see Jameis return for a sixth Tampa Bay season if they can't land Philip Rivers or another veteran.