Steve Mariucci Talks Jameis
February 26th, 2020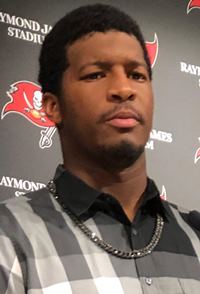 Thanks to noted QB guru and former 49ers and Lions head coach Steve Mariucci and for spending 1-on-1 time with Joe at the NFL Scouting Combine today for a friendly chat.
Of course, the topics of pasta and Jameis Winston came up.
Mariucci is an emotional guy and he seemed to feel the uneasiness of the Jameis situation.
"You know, I got to know Jameis before the draft when he came out. And man, he's done some really good things in the league. He's done some things that nobody else really has — good and bad, I guess, if you want to add the turnovers and that sort of thing," Mariucci said. "But I think a Bruce Arians-type coach and system can help him through that, I really do.

"You know I had a young quarterback that was kind of a gunslinger; I don't know if you've ever heard of Favre. He would take chances because he was so darn confident in his arm. And Jameis is a little bit like that. 'I can get it in there 'cause I'm talented enough to do that and I've done it before. So it gets him in trouble sometimes.

"In watching Bruce Arians talk to our people here at NFL Network, it sounded like he has a plan that he's not willing to divulge quite yet. If they can get a certain person, whoever that guy is, one of these free agent quarterbacks to come in and take it over, it sounds like they may do that. Now that might be wishful thinking. We'll see, but Jameis Winston's good enough to play in this league and win."
Before Jameis was drafted, there was a famous NFL Network scene with Mariucci testing Jameis on the proverbial whiteboard, to gauge his football intelligence and recall.
Joe asked Mariucci what he remembered from that day and if there was anything behind the scenes Bucs fans might want to know.
"I just made this comment the other night because I did some whiteboard already at the Combine," Mariucci said. "I had [QB prospect] Jalen Hurts yesterday. He did a nice job. But I did mention that Jameis Winston was as good on the whiteboard as anybody that I've ever had, and I've been doing this Combine now for 29 years. So I've had a lot of guys on the board in different ways and certainly not only for television.

"Jameis was not only smart — the darn kid was recruited by Stanford — but he was funny and he had a great memory and a great wit. He was very perceptive. I mean I thought he was terrific. And so if they can just eliminate some of those plays that will bite you every now and then, he can be pretty good."
Always fun and insightful talking quarterbacks with Mariucci, though he can be a little confusing.
Like Arians, Mariucci believes the Bucs can win with Jameis. But he also believes the Bucs can do better and Jameis has a lot of room for improvement.