"He Is The Fire"
February 1st, 2020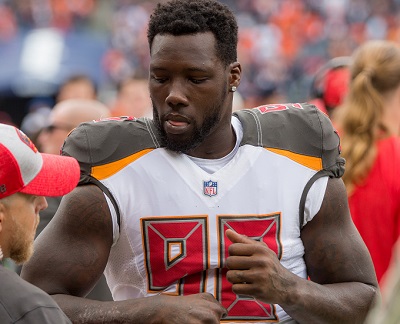 Interesting take from Ronald Jones.
Tampa Bay's second-year running back was cruising around Super Bowl's Radio Row yesterday and found time for a quick chat on WDAE radio.
Jones was asked about Jason Pierre-Paul potentially returning, as his contract is expiring. (Thinking Bucs fans realize JPP will want top dollar after betting on himself in 2019, and 21 sacks in his last 26 games.
RoJo didn't hesitate, and he called out JPP as part of the supreme leadership threesome on the Bucs.
"It's definitely going to be important,' RoJo said. "You know, like him and Suh and Lavonte David, those are our guys that, you know, speak up when it's time for something to be said on the team. So definitely you want to bring [JPP] back because he is the fire and soul on the team."
The leadership side of JPP intrigues Joe. In 2018, did JPP speak up when Brent Grimes' vibe was all messed up (all season) because the Bucs asked him to cover top receivers? That Bucs defense was horrible, and Joe has it on very good authority that JPP was prone to freelancing along the defensive line, as in not listening to coaches.
Perhaps JPP's leadership improved last season. Certainly the defense improved when he returned.
Joe was a bit surprised to hear RoJo name JPP, Suh and Lavonte David as leader while omitting his brethren on offense.
Regardless, JPP is a damn good player, and the Bucs aren't good enough defensively to let good players walk out of the building. And if he really is "the fire," well, how could Bucco Bruce Arians wave goodbye?