D'Andre Swift & The Bucs
February 24th, 2020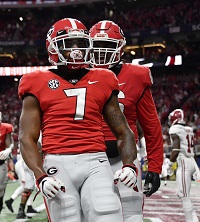 Yes, there are well documented problems with the Bucs and running backs, from utilization to selection to evaluation.
Everyone is to blame, including Team Glazer for not demanding every last resource be used to fix the mess.
Would it have been so freakin' hard for the Bucs to bring in a specialist six weeks ago to assist and help guide whoever decided Peyton Barber, Ronald Jones and Dare Ogunbowale were the three best pieces to the Bucs' 2019 puzzle at running back?
Joe's head continues to shake. But maybe this is the year that flashes the Bucs back to their punishing running game of 2015 or 2010.
D'Andre Swift out of the University of Georgia largely is considered the big-impact running back of this year's draft class, and many mock drafts believe he will be there for the Bucs at No. 14 overall.
Joe keeps hearing speculation that Swift is an instant beast, much like Josh Jacobs was for the Raiders last season. And Swift has very low mileage on his 21-year-old legs, only 440 college carries.
Would the Bucs dare to pick a running back that high after years of misses at the position under general manager Jason Licht? Last year, Arians himself said, "I don't overpay for that position." Of course, perspectives change all the time.
Joe believes the Bucs would be fools to pass on addressing running back in free agency in some fashion. It's unthinkable to think they gamble and wait until the draft. But if they do, then maybe this is the year they go all-in on finding a true No. 1 back to turn the Bucs offense into the most balanced and lethal in the NFC.
They truly could be just a running back away from that status.
Joe can already smell the win-now Falcons trading up from their No. 16 pick to grab Swift.