Bruce Arians Puts A New Number On Jameis Winston's Interception Total
February 27th, 2020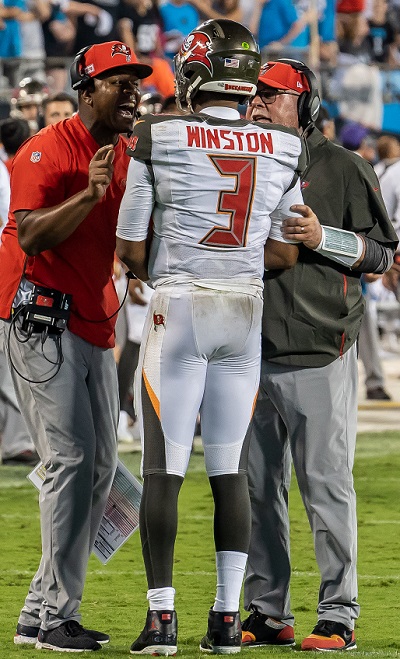 There's been much debate about how many of Jameis Winston's eye-popping 30 interceptions were on him last season. The chatter started in September and never waned.
This week in Indianapolis, Bucco Bruce Arians added clarity to the down-on-Jameis sentiment flowing through One Buc Palace.
Arians said Jameis' woes with interceptions were a lot about being in the first year of a system and receivers not being on the same page. But Arians put a high percentage of Jameis' picks on on him.
"I loved him and I hated him," Arians said of Jameis on SiriusXM NFL Radio. "More love, I mean, you throw for 30-something touchdowns and 5100 yards, there's a lot to love. The mistakes sometimes, you scratch your head.
"I think there are about 10 that weren't his fault," Arians said of Jameis' interceptions. "But I would have liked to have seen a better December. You know, that's usually, that end of November and December, it starts clicking for us. It did for Carson in Arizona. It did for Ben [Roethlisberger]. It did for everybody. But [Jameis] made some mistakes in December that I didn't like.

"He's one of those guys that wants to go out and win the game by himself sometimes. Let the other guys help you."
Now that was telling hearing Arians talk about every QB he's worked with — except Jameis — overcoming certain types of mistakes by Thanksgiving.
Decision Jameis rolls on.