Breshad Perriman & The Saints
February 6th, 2020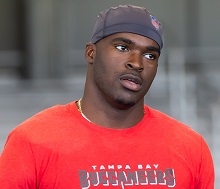 Now this makes perfect sense.
The Saints relying on Michael Thomas catching 149 balls again next season is the equivalent of the Bucs expecting Shaq Barrett to rack up anywhere close to 19 1/2 sacks in 2020.
Thomas turned in a season for the ages, but the rest of the Saints' receiving corps? Nothing too special.
Old man Ted Ginn, Jr., played all 16 games in his 13th NFL season, but he's just about toast after 30 catches last year.
The snap counters and questionable analysts at Pro Football Focus were studying the Saints and believe they have figured out their ideal free agent fix: Bucs receiver Breshad Perriman.
It seems like a given that Drew Brees will come back for one last hurrah, and the Saints will return the key members of the roster that ranked fourth in non-quarterback team WAR this past year. Still, Brees could use a low-cost weapon opposite of Michael Thomas. Breshad Perriman has been fairly decent since leaving Baltimore in 2017. He's dropped just one of 90 targets these past two years, which bodes well for the most accurate quarterback in the NFL. In his most recent season with Tampa Bay, Perriman ended the year red hot by producing the second highest receiving grade over the last five weeks.
Joe's not vouching for "drops" stats. Those are highly subjective. But the reality is that if Perriman moves to New Orleans, he becomes the Saints' true No. 2 receiver, and he might be faster on turf.
Joe can't figure out why Perriman would want to stay in Tampa and be (and be paid like) a No. 3 receiver.