Arians Says O.J. Howard Has Potential, Tight Ends "Probably Are Not Catching A Hell Of A Lot Of Balls"
February 25th, 2020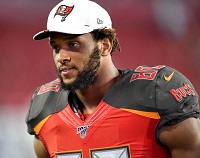 It's time to realize that O.J. Howard was drafted for a different Buccaneers head coach.
That's just the cold NFL reality. Dirk Koetter's obsession in the first-round of the 2017 NFL Draft is now a lesser, maybe-he'll-get-there piece for Bucco Bruce Arians.
This kind of thing happens every year in the NFL.
"People were trying to put him in a class he has never reached yet," Arians said of Howard at the NFL Scouting Combine today. "All right, so expectations, sometimes [what] they're putting on him; he ain't done that yet. He has that potential. He got better and better as a blocker, which for me is important. He steadily got better catching the ball and holding on to it, you know.

"So can he be a threat? Every week we're looking for the best matchups. And when you have Chris [Godwin] and Mike [Evans], the tight ends probably [are] not catching a hell of a lot of balls."
It's becoming increasingly clear to Joe that barring injuries, the Bucs will roll this season without Cameron Brate, and will give Howard another year to mature and impress in an offense that will feature him sporadically.
Arians just doesn't value tight end enough to keep the status quo.
Blocking tight end Antony Auclair, a potential free agent, got high praise from Arians today, so an Auclair-Howard combo is probably where the Bucs are headed for 2020. And Joe wouldn't be surprised to see them draft a receiver in a receiver-deep draft.