Another Hall Miss For John Lynch
February 1st, 2020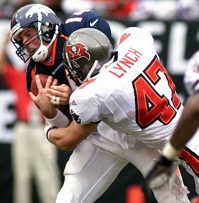 It's official.
Again this afternoon, for the seventh consecutive year, Bucs legend John Lynch is a Hall of Fame finalist who didn't make it to Canton.
Maybe this will be the year the Buccaneers organization and some key ex-Bucs will decide not to give a second-rate effort in supporting the Lynch candidacy.
Lynch was not among the final 5 modern day finalists elected today to the 2020 Hall of Fame class. He is among the 10 finalists getting a copy of the home game.
Former Broncos and Jets safety Steve Atwater got in. It's Atwater's 16th year of eligibility and his third time as a finalist. He was a hell of a player, but better than Lynch? Nope.
The Hall of Fame selection process has become extremely political in recent years. For example, look at how the Steelers issued a formal news release last month centered around quotes from Tom Brady supporting Troy Polamalu for this year's Hall of Fame class. That's just one tiny example. Teams and Hall finalists are doing all kinds of things behind the scenes to try to influence voters.
It wouldn't surprise Joe if a scandal popped up at some point. So far, the Hall has avoided it.
And when something is political, well, then you have to play the game or be left out in the cold.
Joe has no problem saying the Bucs didn't maximize their social media capability in supporting the Lynch candidacy, and that's just one example of the Bucs simply not caring enough to play to win for Lynch. Also, too many ex-Bucs didn't step up to do their share to influence votes on behalf of Lynch.
Derrick Brooks did a lot behind the scenes, and out front, but there's a whole lot of crickets from too many others.
Again, it's time for the Buccaneers to take helping get their iconic safety in the Hall seriously.
Hey Team Glazer, you can start the effort on Feb. 15, or you can wait until after Thanksgiving. What's it going to be?
It's an incredible honor to be a @ProFootballHOF finalist. I want to congratulate all of those that have been selected to this year's class. I believe my time will come…..in God's time. #Faithful – Let's go win a Super Bowl!

— John Lynch (@JohnLynch49ers) February 1, 2020