"Your Brain And Your Heart Are Very Hard To Evaluate Until You Get'em"
January 12th, 2020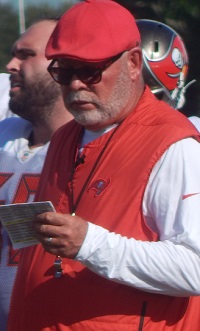 One of the most interesting assessments of America's Quarterback, Jameis Winston, came from inside the walls of One Buc Palace about eight weeks ago.
And it's especially interesting in the shadow of comments from head coach Bruce Arians.
Like any first-year head coach, Arians had the extreme challenge of figuring out what his roster was really made of. Yeah, there's film, but then there is being around players every day. Big difference.
"Your brain and your heart are very hard to evaluate until you get'em," told Buccaneers.com for a season review video.
What about Jameis? What's his brain like?
"He's an extremely smart guy," QB coach Clyde Christensen said in mid-November. "Remembers things, you know, I think probably the biggest positive for him is just his mind and his memory. He remembers everything. He remembers film. He remembers pass pays. I think his memory and his recall of things is the thing that's probably most impressive."
Ok. So the Jameis brain is good. Check!
What about the heart? Bucs fans know Jameis plays almost with too much heart at times, sacrificing his body and taking extreme measures to make a play. And playing through a broken thumb on his throwing hand for several games late in the season surely was under the definition of heart.
So the heart is strong, and everyone at One Buc Palace swears Jameis has an unmatched work ethic.
Man, keeping Jameis sure seems like a simple decision on the surface for Arians and Team Glazer. He busts his butt, plays with heart and is brilliant.
Throw in the raw talent and just turning 26 years old, and that's a five-pronged combination that screams, "Don't give up on the guy!"
But then there's the many mistakes from a brilliant player who's working and trying his ass off — a bad combination. And Jameis has had scant success in the leadership department. Perhaps he's just done all he can and is just too mistake-prone to be great?
Joe has to assume Arians wants Jameis back. Arians likely gave Jameis strong grades for "brain" and "heart," and Joe guesses Arians' ego is advising him he's almost there with Jameis and that the quarterback whisperer didn't come to Tampa to give up on a guy racking up all kinds of numbers.
Joe thinks the bigger question is whether Team Glazer has given up on their unpopular QB.