Investing In An Unpopular Quarterback
January 10th, 2020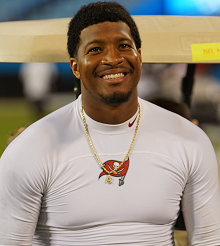 So how much will fan opinion matter to Team Glazer?
Hey, when your team stinks on the field over the course of a generation, it's reasonable to think a team might consider placing a higher priority on fan-friendly measures to balance out the on-field disappointment.
Joe brings this up after the recent 24-hour Jameis Winston poll on this site showed about half of fans don't want Jameis to be the Buccaneers starter in 2020.
And while no poll is perfect, the results there were similar to others Joe has run (sometimes in the wee hours for just 1 hour). And it's also reality that some Bucs fans quit on the team after America's Quarterback was penalized by the NFL and labeled a sexual offender under their personal conduct policy in 2018.
So even if 60 percent of Bucs fans want Jameis back next season, that does not account for the fans who already bailed because of Jameis' presence. And yes, Joe knows people who fall into that latter category.
Bucs attendance also is on a steady and significant decline, though Joe places the vast majority of blame there on the Bucs' uninspired marketing and the team's terrible home record.
Is it good business to pay a quarterback a fortune and make him the face of the franchise if he isn't well-loved by the fan base as a whole?
That's a worthwhile question. Team Glazer is, after all, in the entertainment business when you get to the bottom line.
Joe has no answers; Joe is merely asking the question and wondering how much of a factor Jameis' popularity is to the equation.
This is the same ownership group that cut Derrick Brooks, let Michael Bennett walk, and was good with just signing a punter in 2011 free agency after going 10-6 with a young team in 2010, so Joe isn't about to predict where Team Glazer will fall on Jameis.
It's supposed to be all about winning, but the Bucs' seemingly endless losing and 12-year playoff drought might shape Team Glazer's focus. It's hard to be all about winning when you don't win.