Will Jason Pierre-Paul Command $13 Million In 2020?
January 5th, 2020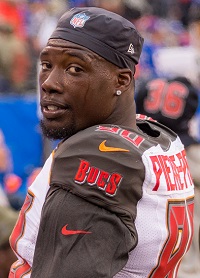 Joe nearly spit up a Big Storm Bromosa the other day reading a Tampa Bay Times analysis of the Bucs' salary cap situation that speculated Jason Pierre-Paul could be re-signed for $8 million in 2020.
Yeah, right. JPP has 21 sacks in his last 26 games.
First, JPP's 2020 salary was to be $12.5 million before he and the Bucs agreed to tear it up following his neck injury. Joe would bet anything JPP will be seeking at least that much cash for next season just on principle.
But keep in mind, a quick look at Spotrac.com reveals there are 20 or so edge rushers set to earn more than $10 million next season. And that's just in base salary.
NFL fans watched Texans outside linebacker Whitney Mercilus yesterday against the Bills. The 29-year-old is not the player JPP is, but he's very good and is in the middle of a contract averaging $13 million annually.
Joe could give other examples, but the point is JPP won't come cheap unless there's a bizarre health risk nobody knows about related to whatever he broke in his neck back in May. But there's no evidence of that.
JPP and his team will surely remind the Bucs that he can play every snap and produce as a freakish athlete who just turned 31 years old. Joe is confident somebody will have no problem handing JPP quality guaranteed money for the next two years. And Joe suspects the sacks-challenged Falcons would be among the first in line.