Warren Sapp Talks Bucs
January 28th, 2020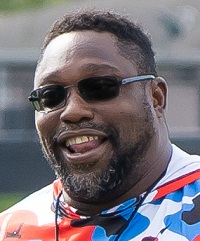 No, Warren Sapp wasn't talking about America's Quarterback, Jameis Winston, on national radio this week, but he was talking about players from his favorite team.
Sapp, of course, has begun to make the rounds at the Super Bowl and landed with his buddy Rich Eisen for an extended stay on The Rich Eisen Show.
Here are a few highlights:
*Sapp explains that John Lynch belongs in the Hall of Fame because he's a dinosaur, and dinosaurs belong "in the museum." Per Sapp's logic, the Tampa-2 defense is extinct because safeties can't roam and hit like they used to. Also per the Bucs legend, Lynch, Sapp and Derrick Brooks were the keys to that legendary Bucs defense and they are all deserving of the Hall.
*Gasp! Sapp appeared to refer to Rondé Barber a system cornerback. While talking about Richard Sherman covering the Chiefs' speedy receivers, Sapp said, "I love Richard Sherman to death, but son, you built to play zone. Just like my dog Rondé Barber. Listen, keep it all in front of you, we'll rally and tackle. You do not want to get out there man to man with these boys."
*And Sapp threw a little backhanded shade at Gerald McCoy while explaining his excitement for Shaq Barrett in the context of how greats should respect the new generations. "I have a real issue when you left the game and you were the titleholder, that you have a problem dusting off the throne for the new one. It's Aaron Donald now. It was Fletcher Cox for a little while, Jurrell Casey, all these guys play the game the way it's supposed to be played. I love that they play it like that. Like when Shaq Barrett was approaching my [Bucs single-season sacks] record. Crush it, Shaq. It's been there too long. It's been 19 years. Crush it. Bust it down. Take it to 20. Because that's what the game is, the appreciation of someone doing it like you did or even better."