Vic Beasley And The Buccaneers
January 24th, 2020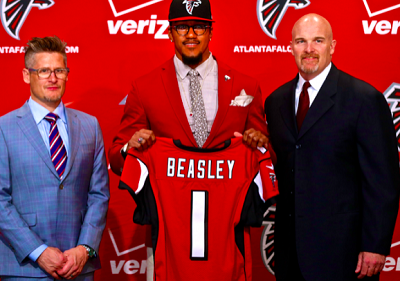 Joe's written many times that it's fairy-tale, pewter-blinded thinking to believe Jason Pierre-Paul will not demand top dollar on the free agent market.
He's proven enough to earn close to it.
Not a believer? Ok. Keep in mind JPP is a guy who twice in his career has bet on himself in a big way when it comes to the business of the league.
Regardless, Joe wonders where the Bucs might turn in free agency as a contingency plan if they can't get JPP to take a deal.
Enter Vic Beasley, one of the more interesting free agents out there. The 2015 first-round pick was getting called a bust in his first season, and then he cranked out 15 1/2 sacks in a career year in 2016, after the Falcons moved him to linebacker and took him out of the traditional edge rusher role.
Beasley slid back to meh play in 2017 and 2018, but then he was a catalyst in the Falcons' late-season surge this season. In the second half of 2019, he recorded 6 1/2 sacks, two forced fumbles and six tackles for loss.
In a dissection of the Falcons roster today in the Atlanta Journal-Constitution, Falcons beat writer D. Orlando Ledbetter said he would let Beasley walk in free agency. "In the second half of the season, Beasley started to embrace using more than just his speed. He was moved from the left side to the right and finished with eight sacks."
Beasley, 27, only has missed two games in his career, and he certainly seems like the athletic freak kind of guy Todd Bowles would embrace in Tampa. Joe always thought Beasley was an odd and underachieving fit in Dan Quinn's defense. Plus, Bucco Bruce Arians openly has talked about how he likes offering guys one-year contracts.
Joe thinks Beasley, who earned $13 million this season, might be interested in betting on himself and then cashing in bigger for 2021. Nobody's going to give him a massive multiyear deal.
Just another guy to consider as the Bucs figure out how to not screw up massive salary cap room and critical decisions.