The Jameis/Philip Rivers Debate
January 3rd, 2020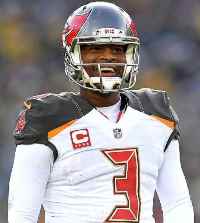 Who would you rather have starting at quarterback for the Buccaneers next season, 38-year-old Philip Rivers (4,615 yards this season) or 26-year-old Jameis Winston (5,109 yards)?
It's an interesting debate. Rivers is one of the most durable quarterbacks in NFL history. The eight-time Pro Bowler hasn't missed a regular-season start since he got the full-time job with the Chargers in 2006.
He, too, has a gunslinger mentality and has thrown a lot of interceptions, but at nowhere near the rate of Jameis.
A year ago, Rivers was beating the Ravens in the playoffs after a stunning season that saw him throw 32 touchdowns against just 12 interceptions. This year, Rivers had 23 TDs and 20 interceptions. (No, Joe has no word on how many picks were Rivers' fault.) So it's easy to say Rivers is washed up, but there's not much evidence.
Jameis, of course, had the historic 2019 production and interception totals. And, presumably, he should be very comfortable in the Bucs offense in 2020. Obviously, Jameis has a brighter future than Rivers, but this post is about the now.
Rivers might land on the open market since the Chargers are considering an overhaul. He wouldn't command a ton of money as an older QB coming off an unspectacular season.
It's a fun debate, and one that was attacked by the Good Morning Football crew on NFL Network. Former stud running back Maurice Jones-Drew was appalled that anyone would consider Rivers over Jameis. But that wasn't the consensus from the panel.
Enjoy the chatter below.