Grade Vita Vea (Embedded Poll)
January 3rd, 2020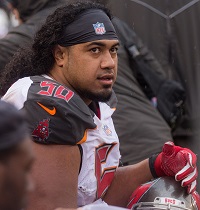 So how did the Bucs' resident manbeast defensive tackle fare this season?
There are many ways to judge Vita Vea.
For this series, Joe will lay out various facts and go light on opinion.
Second-year man Vea started all 16 games in 2019, and he took 66 percent of the defensive snaps. He also took 6 snaps on offense and caught a touchdown.
On the stats front, Vea had 2 1/2 sacks this season, which came on the heels of 3 sacks last season in just eight starts. Vea found 19 solo tackles this season after 21 in 2018. Four tackles for loss were the same total each season. And he racked up 12 quarterback hits this season versus 4 last year.
An anchor of the best run defense in the NFL at 3.3 yards per attempt, Vita was a fit in the Todd Bowles scheme and showed few if any holes in his run defense. His pass rush ability is growing but is not yet special. Vea had a few costly and unnecessary personal fouls this season, and the film shows twice against the Falcons last Sunday, Vea was caught not being ready when Atlanta went to a quick snap.
Grading Vea is an interesting exercise because the standard should be higher for a No. 12 overall pick.
What say you, Bucs fans?