The Bucs & Jonathan Williams
January 26th, 2020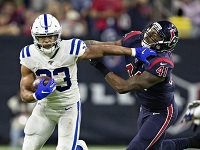 Before the Bucs pounced on Peyton Barber in the undrafted free agent frenzy following the 2016 NFL Draft, another SEC running back was selected in Round 5 by the Buffalo Bills.
That was Arkansas Razorbacks RB Jonathan Williams.
He went in Round 5 despite missing the entire 2015 season with a foot injury. That doesn't happen every day. The scouts remembered his 1,190 yards on 211 carries and 12 touchdowns during the 2014 college season.
Williams pro career never got off the ground. He barely played as a rookie and was a final cut of the Bills in 2017. The Broncos parked him on their 2017 practice squad but New Orleans plucked him soon after with a real-roster deal. Over two seasons he had three carries and landed in Indianapolis midway through the 2018 season.
Injuries finally gifted Williams a significant shot in 2019, and in those two games against Jacksonville and Houston, he combined for 39 carries for 220 yards and a touchdown.
"You can tell he's got great vision, quickness, speed and acceleration,'' Reich said after Williams had a big game against the Jaguars. "We've been wanting to get him an opportunity for a while. He's waited patiently. He's really worked hard and did a great job.''
Williams rode the Colts' bench for the final four games and will now be a free agent. He turns 26 next month and Joe likes the wild-card nature of his looming free agency.
No, Joe doesn't see a guy like Williams being "the answer" to the Bucs' running game woes. But Indianapolis had a lot of depth at the position, as did New Orleans, and maybe Williams is a guy who could thrive with a fresh shot. Certainly, he'd add competition and Joe has a hunch Williams has more upside than Dare Ogunbowale.
Yes, Joe is turning over every rock to see what could upgrade the Bucs' sad, sad rushing attack.