"The Best Thing They Had Going"
January 25th, 2020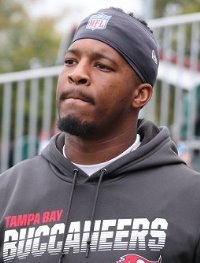 After eight years playing linebacker in the NFL, and several years in broadcasting, Kirk Morrison has a very balanced view of America's Quarterback, Jameis Winston.
Like fellow sober and thoughtful fans, Morrison realizes Jameis throws way too many interceptions and that number needs to be cut significantly if Jameis is to have a starting-QB future in the 2021 season and beyond.
That's right; Joe wrote 2021.
Morrison was talking all things Jameis on SiriusXM NFL Radio this week and said Bucco Bruce Arians needs to simply work with Jameis on his mentality, and build an OK running game, and then Jameis should be fine.
"It's all about Jameis studying his mistakes," Morrison believes, noting the stunning Pick-6 errors must disappear because those are "points" and the worst of the worst screwups.
Overall, Morrison said he's watched so many quarterbacks on film, and had so many as teammates, that he sees a rare talent and mindset in Jameis.
The Jameis attitude? "I have more confidence that my player is better than you," is how Morrison described it. That gets Jameis in trouble, he said, and it just needs to be refined a little bit.
"The best thing they had going was Jameis Winston," Morrison said matter-of-factly when speaking of the Bucs.
Overall, Morrison believes if Arians works to achieve a little improvement rushing, coaches out the Pick-6s and the Bucs do the smart thing and franchise tag Jameis, then "Jameis is my candidate for comeback player of the year."
That last line made Joe chuckle. Man, hoping your franchise QB becomes comeback player of the year on a franchise tag is quite a big investment in hope.
Regardless, Morrison is on target, Joe believes. But Joe's unsure what, after 70 career starts, will make Jameis a better in-game decision maker, outside of a good running game that would cut his total decision-making.