Jamel Dean's Unique Trio
January 25th, 2020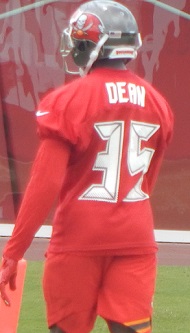 Bucs rookie cornerback Jamel Dean had a unique season. He was hurt, he was on the bench, he finally got significant time and was horrendous.
And then he became one of the better ballhawk corners in the league during the second half of the season.
But Dean also has a unique background and Florida Today newspaper wrote about it recently. Dean went to Cocoa High in Florida, and two of his high school teammates, Chauncey Gardner-Johnson, Jawaan Taylor, made the Pro Football Writers NFL All-Rookie Team.
How cool is that! Three high school teammates on the all-rookie team!
Cornerback Gardner-Johnson was a fourth-round pick of the Saints; Taylor (offensive tackle) was an earlier second-round pick of the Jaguars. Dean was a late third-rounder.
Dean, of course, also was a college teammate at Auburn of fellow Bucs cornerback Carlton Davis. Dean has spoken previously about how the the two have pushed each other for years.
His future appears bright, but Joe has to see a lot more. In only four games this season did Dean play two-thirds (or more) of the Bucs' defensive snaps. Joe also hopes the Bucs add legitimate veteran competition for Dean and the rest of the cornerbacks.