Testing The Market
January 21st, 2020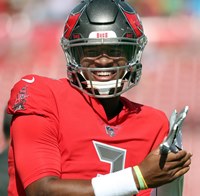 Still in his prime and dominant on a 2008 Ravens team that just lost in the NFC Championship game, legendary linebacker Ray Lewis was allowed to test the 2009 free agency market.
It almost seems unthinkable, but it happened. The Ravens gave Lewis a contract offer, held firm, and told him to see what's out there because they weren't budging.
Lewis hit the market but came back to Baltimore a handful of days later with open arms. The '09 Ravens went on to suffocate and beat the Patriots in the playoffs.
Now America's Quarterback, Jameis Winston, is no Ray Lewis. But like Ravens fans in 2009, a lot of Bucs fans would squirm in their chairs if the Bucs offered Jameis a one-year contract with incentives (not the franchise tag) and told him to take it and play for Bucco Bruce Arians with great receivers, or go test the market while the Bucs themselves look around.
Quarterback and linebacker are different positions, of course, but suppose the Bucs dig in and demand Jameis play for what they think he's worth, assuming its a few million less than the franchise tag. Is that a bad idea?
Is it good business? Would it be a good test of where Jameis' heart is?
It should come down to the Bucs' internal evaluation of Jameis. Joe believes if you really like the guy, you franchise him, you don't dig your heels in to save NFL pocket change, not on a Tampa Bay team that has flushed countless millions on garbage players over the past handful of years.
The Bucs shouldn't be playing those kinds of games. If you think you can win with Jameis, then you lock him up for 2020. If you don't think he's the answer, then say goodbye in a hurry.
Whatever the Bucs do, Joe just hopes they don't set themselves up for a three-ring crap show at quarterback next season with Jameis and a rookie battling for a starting job. Because we all know how smoothly that would go.