Sam Wyche Dies At 74 Years Old
January 2nd, 2020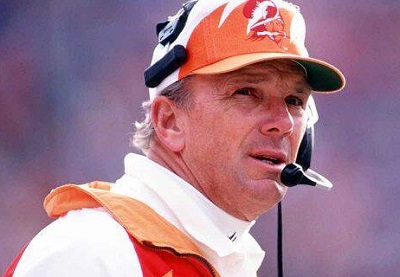 Joe sure remembers the excitement of the Bucs' 5-2 start during the 1995 season. "Five-Dash-Two" was the famous quote from then-head coach Sam Wyche.
It all fell apart for Wyche and the Bucs after that, and that season ended Wyche's interesting and entertaining NFL head coaching career.
Today, Wyche died at 74 years old.
Buccaneers co-owner Bryan Glazer issued a statement:
"We are saddened to hear of the passing of Sam Wyche earlier today. Sam's innovative approach to offense left a lasting mark on the game of football. As our head coach in the early 1990s, Sam was instrumental in drafting cornerstone players such as John Lynch, Derrick Brooks and Warren Sapp, who were all key foundational parts of our eventual Super Bowl championship. The Buccaneers organization sends its heartfelt condolences to his wife, Jane, and the entire Wyche family."
Omitted there by Glazer was Wyche luring middle linebacker beast Hardy Nickerson to Tampa from the Steelers at the start of the 1993, one of the cornerstone moves that led to unprecedented success during the Father Dungy era.