Ryan Fitzpatrick: They Obviously Have A Tough Decision To Make
January 31st, 2020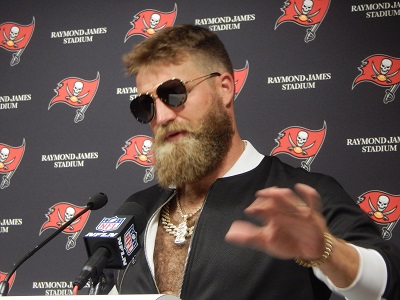 Fun fact!
The Buccaneers threw for more yards and more touchdowns last season with Ryan Fitzpatrick starting seven games and playing a major relief role in another.
How could that be?
Fitzpatrick spent two years working alongside America's Quarterback, Jameis Winston, so he's a great person to ask about Decision Jameis.
That's what happened on WDAE radio today when Fitzpatrick was queried about Jameis.
"I'll just say that I was so impressed with his work ethic and drive and how much he puts into it every single day. He's like nobody I've been around in that regard," Fitzpatrick said of Jameis. "He really loves the game and cares about his teammates. I don't know what's going to happen, and I think they have everything they need to know about him. They know who he is as a person and as a player. You know, there's obviously a lot of film on him, especially now in Bruce's offense. There's not a whole lot of guys who have thrown for 5,000 yards in this league. But they obviously have a tough decision to make. I'm glad I'm not Jason Licht sitting there having to make that decision."
Considering Fitzpatrick is the kind of guy who shares a lot of love for his teammates and former teammates, Joe was surprised Fitzpatrick would say the Bucs have "a tough decision" on Jameis. And c'mon, Fitz, we all know the decision belongs to Bruce Arians not Jason Licht.
But alas, it is a tough decision, one made difficult by Jameis' throwing six interceptions in his final two games of 2019.