"He's Solid Now"
January 17th, 2020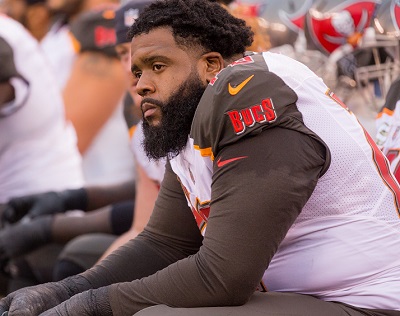 It took about 4 1/2 seasons, according to a man who's been studying Donovan Smith since he arrived in Tampa in 2015.
Joe is impressed, not by someone calling the Bucs' left tackle a pretty good player, but because it was former Bucs guard Ian Beckles (1990-1997). Beckles spent the first four season of Smith's career telling his local radio/podcast audience that Smith was inconsistent and too often unmotivated.
"He's solid now," Beckles said with a little admiration in his voice yesterday on WDAE radio.
Yes, Beckles reminded listeners, "You know I'm not a fan [of Smith], right?" But he went on to praise Smith's improvement in various areas (without mentioning any steps backward) and added that nobody can legitimately say Smith doesn't belong starting at left tackle, though Beckles said Smith probably is better suited for right tackle.
No, there was no position change advocated for Smith. Beckles noted that many offensive linemen simply can't play the side of the line they're unaccustomed to, and he gave examples.
There really is player development happening in various areas at One Buc Palace, which is refreshing. Beckles' take also was refreshing. Over many years, Beckles has dug his heels in on players whose games he didn't like, such as Gerald McCoy, Gaines Adams and Barrett Ruud. Smith was one, as well, but those days have ended.