"Here's The Problem As [The Bucs] Pointed Out To Me"
January 18th, 2020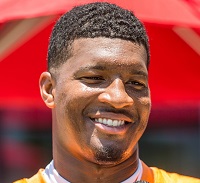 A longtime NFL insider spoke about chats this week he had with Bucs officials.
Today's Shrine Bowl at Tropicana Field is the culmination of a week of team front office members and scouts hanging around with media watching NFL Draft prospects in St. Petersburg.
Adam Caplan is one of those media types in town. For years, NFL fans have seen Caplan on ESPN and heard him on SiriusXM NFL Radio, and he's worked in the Philadelphia market and for the Eagles, among other outlets.
Caplan made it very clear that he talked "with the Bucs" this week during an interview on WDAE radio. Typically these conversations are off the record, but apparently not since Caplan shared plenty.
First, Caplan predicted the Bucs will slap the franchise tag on Jameis Winston, America's Quarterback.
"But here's the problem as they pointed out to me," Caplan said of his chat with the Bucs. "They've got 19 free agents. There are some guys they really don't want to lose. They're not walking away from Shaq Barrett, zero chance. It complicates matters. They'd love to bring back Breshad Perriman. I just don't think they're going to have enough money. With the cap, I don't know how they'll be able to do it. And they're going to have some tough calls here."
Caplan went on to say the Bucs are high on Ronald Jones. "They said [Jones] is doing better. He's on track."
On the defensive line, "They love Carl Nassib," is how Caplan characterized the assessment from Bucs officials. And on free agent to be Beau Allen, "my understanding is they want him back" with rookie Anthony Nelson getting more reps in a healthy season.
Caplan also noted the Bucs like the practice dedication and leadership shown by Ndamukong Suh. But Caplan didn't say the Bucs will re-sign him.
But what about Jameis? "If it came down to it, they would tag Barrett first then Jameis," Caplan said. He explained that Barrett has more value because Jameis is more replaceable given what's on the free agent QB market versus the edge rush talent hitting free agency.
---
Gambling on sports!! It's so much fun!
Enjoy another episode of What Are The Odds? Another great production from The Identity Tampa Bay.