Do Bucs Need Better Receiver Coaching?
January 5th, 2020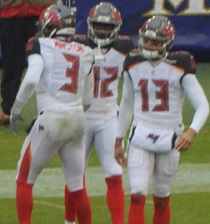 A retired NFL receiver sees all 30 of Jameis Winston's interceptions and also sees a corps of pass catchers that needs to be coached up.
It's an intriguing take when you factor in how often Bucs coaches blamed Jameis' targets for an interception. It started in Week 1 against the 49ers with Peyton Barber getting called out for running a bad route on Jameis' first pick-6 of the season.
The voice on this is former Bucs and Giants receiver Michael Clayton.
Looking back on the loss to the Falcons last Sunday, Clayton reflected on what he sees as a deficiency among Bucs receivers.
"By God, we've been doing this and we've been talking about this for years. We have great receivers, right? But they do things that aren't coached to the next level, and we've missed out on that," Clayton told WDAE radio. "And I've been able to critique that multiple times this year where it hasn't necessarily been Jameis Winston's fault.

"I know from playing the position there's an opportunity for receivers to eliminate almost 90 percent of interceptions. And that's being a defender – what we saw Breshad Perriman do one time in the [Falcons] game; be a defender, knock the ball out and move on. You have so many options if you're running the correct routes at the right angles, coming back to the football, [shaping] your routes off and we just haven't seen that, these players go to the next level. That's Jerry Rice-caliber type of routes, always being quarterback-friendly. And we got great receivers who haven't gone to that next step yet. Hopefully they're coached up to eliminate some of these mistakes.

"But you can critique it both ways. You can blame a little bit about Jameis on timing. You can blame a little bit about shoulder … When the bullets are flying, it's tough for me to throw it all on Jameis."
Joe's not absolving Jameis of blame here, but one should wonder if the Bucs are coaching their pass catchers well.
That may seem like a bizarre thought with two Bucs receivers in the Pro Bowl and Breshad Perriman having a career year in a high-octane offense. But there's always room for improvement and Bucs coaches did throw a lot of blame on the guys catching passes this season.
As for Jameis' season-ending interception, Clayton didn't like the route Cameron Brate ran on the play. Brate was "drifting," Clayton said, noting "as a receiver, you're getting paid $7 million, run a $ 7 million route."
Join us on January 9th from 3-7 PM for our Monster Jam display! The famed Grave Digger monster truck will be here, plus plenty of delicious hot dogs and chips for everyone. Come have a "monster" of a good time with us! pic.twitter.com/kSYDJySjQh

— Bill Currie Ford (@BillCurrieTampa) December 31, 2019