Calling On Vinny Testaverde
January 30th, 2020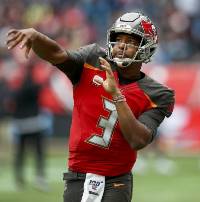 For years early in his career, Vinny Testaverde threw interceptions at a greater rate than Jameis Winston.
Testaverde found a way to improve and make his first Pro Bowl trip as a 10-year veteran. Now he is retired in Tampa and the Bucs aren't calling on him to help fix Jameis.
Testaverde was at Super Bowl's radio row this week and talked about how he enjoys a stress-free life in Tampa playing a lot of golf and watching a ton of football. Asked on WFAN radio if he's involved at all with the Bucs, Testaverde said he's not, but he sounded like a guy who would like to be.
He said he sees Bucs coaches on the golf course "but they don't want to talk too much football."
On Jameis throwing a lot of picks, Testaverde said, "You know, I went through that early in my career, too. But hopefully, Coach Arians can turn that around for him and the organization."
The Bucs' No. 1 overall pick in the 1987 NFL Draft, Testaverde represents a wealth of knowledge in so many areas. The guy played 21 seasons for 7 teams, and he had a couple of very special seasons as a starter.
One would think the Bucs would be wise to get Testaverde's assessment of Jameis and maybe arrange a lunch for the two of them. No, Testaverde never fully got over his proclivity for picks, but he did shake it for a few seasons.
Joe just feels like Testaverde is an untapped resource in the Bucs' quest to fix Jameis.
It reminds Joe of Ira Kaufman often saying Bucs Ring of Honor tight end Jimmie Giles tells him he'd like to sit down with O.J. Howard.