"They Are A Quarterback Away From Competing"
January 28th, 2020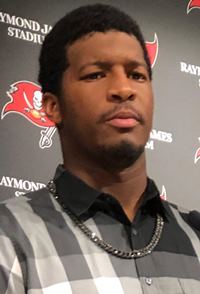 Harsh criticism of America's Quarterback, Jameis Winston, was flowing at Super Bowl's Radio Row this morning from a couple of former players.
Hall of Fame cornerback/safety Rod Woodson wouldn't answer the question when asked whether he would rather play with Jameis or against him.
Woodson did tell WDAE radio that the career consistency of Jameis' turnovers are "problematic," and he believes the Bucs have the talent and the coaching staff to win.
A big believer in Bucco Bruce Arians, Woodson wondered aloud whether Arians can be objective with himself when he ponders whether he can get Jameis to the next level.
Move on from Jameis, said former defensive back Solomon Wilcots, who needled Woodson for being politically correct.
"Over five years I think you kind of know what you got [in Jameis]," Wilcots said. "You got a guy who's got tremendous high end when it comes to throwing the football and creating big plays. You also have a guy that a tremendous high end of creating big plays for the opponent. So when you start throwing pick-6s and interceptions, your ability to go out and win football games, it diminishes drastically."
Wilcots went on to note how effective the Bucs offense was over 2018 and 2019, and he lauded what defensive coordinator Todd Bowles accomplished as the 2019 season progessed.
"They are a quarterback away from competing in a very tough division in the NFC South and maybe even going deep into the playoffs," Wilcots added.