19 Picks In 7 Tampa Games
January 2nd, 2020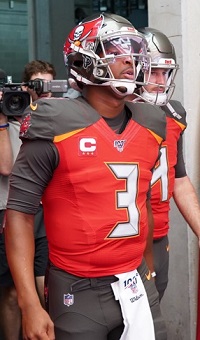 America's Quarterback, Jameis Winston, giving the ball away at home like it's Halloween candy was a relatively new phenomenon this season.
It far exceeded what happened under Dirk Koetter.
Jameis didn't play well at home. Bucco Bruce Arians and Jameis have acknowledged it.
Jameis threw a whopping 19 interceptions during the seven home games this season at the Den of Depression. Nineteen!
That's more at home than he had combined in the three previous seasons.
In 2017, Jameis threw just seven picks in seven home games, and last year he had only four picks in five Tampa contests. In 2016, Jameis threw just six interceptions in eight home games.
Something happened at home this season, and Joe doesn't believe it's a coincidence. On Sunday, referring to interceptions, Jameis said, "some crazy stuff has been happening."
Frankly, it is crazy. Players should play better at home, especially quarterbacks and kickers, given the precision required for the crafts. But the Bucs QB and kicker had major home problems.
It's time to add a healer to Arians' huge staff, or a shock therapy expert. Something.