With The 18th Pick In The 2020 NFL Draft …
December 23rd, 2019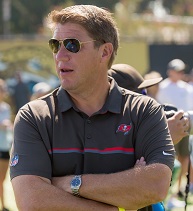 That tough Tampa Bay schedule this season is biting them in the ass.
With a 7-8 record, the Bucs are tied with the Raiders, Colts, Bears and Cowboys. But since the Bucs have played a tougher strength of schedule than all those teams, Tampa Bay would lose the draft-order tiebreaker with all of them if the season ended today.
Tampa Bay now sits holding the No. 18 overall pick.
The Falcons (6-9) currently has the No. 13 slot, and the Bucs face surging Atlanta on Sunday at the Den of Depression to close the season.
Last year, the Bucs tried their best to beat the Falcons in the finale in Tampa, but the Bucs coughed up a lead late and the loss gave them a 5-11 record and the No. 5 overall pick.
No, Joe doesn't expect the Bucs to lose intentionally on Sunday, and Joe also expects Atlanta to go full-tilt after a "W" to help save their coach's job.
2020 NFL Draft order (before MNF)
| PICK | TEAM | RECORD | SOS |
| --- | --- | --- | --- |
| 1 | Bengals | 1-14 | 0.571 |
| 2 | Redskins | 3-12 | 0.500 |
| 3 | Lions | 3-11-1 | 0.489 |
| 4 | Giants | 4-11 | 0.466 |
| 5 | Dolphins | 4-11 | 0.471 |
| 6 | Jaguars | 5-10 | 0.484 |
| 7 | Chargers | 5-10 | 0.496 |
| 8 | Panthers | 5-10 | 0.529 |
| 9 | Cardinals | 5-9-1 | 0.531 |
| 10 | Jets | 6-9 | 0.462 |
| 11 | Broncos | 6-9 | 0.522 |
| 12 | Browns | 6-9 | 0.558 |
| 13 | Falcons | 6-9 | 0.560 |
| 14 | Raiders | 7-8 | 0.478 |
| 15 | Raiders (from CHI) | 7-8 | 0.495 |
| 16 | Cowboys | 7-8 | 0.496 |
| 17 | Colts | 7-8 | 0.498 |
| 18 | Buccaneers | 7-8 | 0.507 |
| 19 | Dolphins (from PIT) | 8-7 | 0.478 |
| 20 | Jaguars (from LAR) | 8-7 | 0.549 |