Five Things
December 23rd, 2019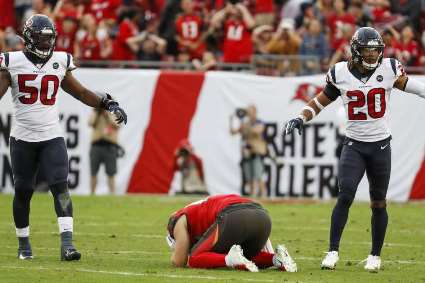 Time to get rid of the gloom and doom right away before we all get coal in our stockings.
Blame It On The Wind.
After the nauseating loss to the Texans, Bruce Arians told all who would listen that the Bucs were just this close to beating the Texans. So many passes that would have been touchdowns for the Bucs were instead incomplete as the misfires were just a few inches off.
Arians could have stated the incompletions were on inexperienced receivers or lack of chemistry between said receivers and Mr. Entertainment, America's Quarterback, Pro Bowler Jameis Winston. Few would have argued. Arians, too, could have fingered Justin Watson for pratfalling out of the snap when he was otherwise wide open for a touchdown.
But no. Arians went a different way.
You see, since it was windy, that wind pushed the ball away from being touchdowns, Arians said. It is the difference between playing in domes, where Jameis may have had his most perfect game the week prior, and playing outside in the wind.
OK, Joe really never looked at it that way before. Interesting angle.
Until Joe remembered: Houston quarterback Deshaun Watson plays his home games in a dome. Watson, though the Bucs defense held him without a passing touchdown, was 19 of 32 Saturday. That works out to 59 percent. Not great but not horrible, either.
Jameis connected on 25 of 48 passes for a 52 percent clip.
So how is it a guy whose home games are played in a dome is less affected by the elements than a guy who plays his home games outdoors?
Good grief! C'mon Bruce, you can do better than that.
Dejection.
Joe has never seen a defense as a whole have their hearts ripped out from them like Joe noticed the Bucs defense in the final minute.
Well, not since the 1999 NFC title game.
The Bucs were trying to mount a last-minute prayer of a game-tying or game-winning drive in the final minute. It ended with an interception. Naturally. That would be Jameis' fourth of the day.
Usually in such circumstances, you will see the defense try to pump themselves up, you know, "Let's take the ball away." Something like that. At least they will show life.
Instead, as the defense took the field, they looked as if were leaving a wake. Every one of them hung their heads, helmets off, looking at their feet while they slowly meandered back onto the field for one more shot.
They had every right to be PO'ed. The Bucs defense turned in one of the best performances in recent memory, holding a playoff-bound team, a division champion, to 16 points.
(Remember Warren Sapp's famous request? "Just get me 17?")
And their quarterback all but threw the game away. Literally.
Joe has seen angry displays by Jameis' teammates in the immediate aftermath of his interceptions before. Who could forget Demar Dotson skying off the ground as if he was Michael Jordan in outrage over one of Jameis' picks at Cincinnati last year?
Earlier this year, Joe noticed Carl Nassib look as if he wanted to toss his helmet after one of Jameis' signature first-pass-picks. Nassib had an angry look on his face and shook his head sternly back and forth while walking to pick his helmet up off the bench, as if to say, "That MOFO did it again?"
After Saturday's display, Joe has to wonder if Jameis' teammates may start turning on him? If that hasn't already begun.
Not lethal.
Joe wrote this already but it seems many are not catching on, based on what Joe gets from followers on Twitter.
While Jameis' three picks early were bad, really bad, they were not lethal. The game was tied at halftime. Problem for the Bucs was they only scored three points in the second half. That killed them as much as Jameis' picks did, perhaps more.
If you play Santa Claus that badly in the first quarter and the game is tied at halftime, you have dodged a major bullet.
Were Jameis' picks bad? Absolutely. Did they single-handedly lose the game for the Bucs? Of course not.
That's not an excuse. That's plain fact.
Little help.
While Jameis was clearly near or at his lowest point Saturday, and given the timing and circumstances of his meltdown, he couldn't have picked a worse time to be at his worst; he didn't get a whole lot of help.
The Curly Howard dance of Justin Watson, the key drops by O.J. Howard and Cam Brate, the absence of a reliable running back (no, one 49-yard run in the 15th game does not count as "reliable") were critical.
When your franchise quarterback goes full-blown colorblind the rest of the team has to step up and damn near play perfect. The defense just about played perfect. The rest of the offense? Not so much.
Ballgame.
Solid corners.
The Bucs have a pass rush (yes, Santa, it is true). The Bucs suffocate running backs with a strong rush defense. But the secondary for much of the year has been a trainwreck.
Are those days over? Consider, second-year corner Carlton Davis made DeAndre Hopkins a non-factor Saturday. In nine targets, he only had 23 yards. You could make a case that Hopkins is the best receiver in the NFL not named "Michael Thomas."
Jamel Dean has become Mr. Passes Defensed. For a rookie. Imagine when he gets a few more games under his belt?
And then there is Sean Murphy-Bunting, another rookie. He makes plays. He is tied with several defenders for fourth-most picks in the league (three), and he kept pursuit on a blitz Saturday when Deshaun Watson got behind him to force a fumble.
Could it be that finally, after all of these years (perhaps in a decade), the Bucs finally have competent corners?