Welcome To Tampa, Kay Adams
December 21st, 2019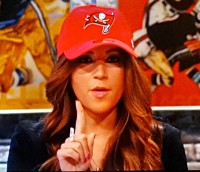 Here is your early Christmas present, Bucs fans!
The NFL Network's it-girl, Kay Adams, co-host of "Good Morning Football" seen weekday mornings, will make her first appearance as one of the faces of the network (Rich Eisen would be the other) to the Den of Depression.
(Eisen, too, will be here as he is calling the game for NFL Network.)
Adams will be broadcasting live from the pirate ship on the north end of the stadium with her co-host Kyle Brandt as part of NFL Network's pregame show. They air a tripleheader today that kicks off with the Bucs hosting the Texans at 1 p.m.
Joe is pretty sure that as a result of today's game, Adams will have attended more Bucs regular season home games than NFL strongman Roger Goodell.
(Adams has made it a tradition recently of visiting various NFL stadiums and partying with fans.)
Let's show Adams and Brandt some Tampa hospitality. How about someone providing them with a cold Big Storm Brewery beer and a pressed Cuban sandwich, eh?