The Culture-Changer
December 15th, 2019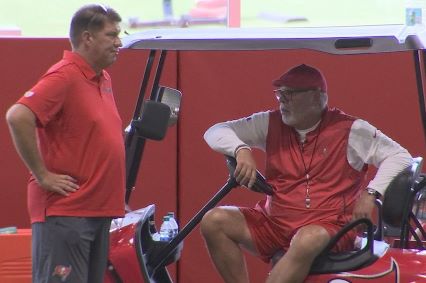 Joe must hand it to Bucco Bruce Arians.
The guy managed to walk into one of the worst-performing organizations in professional sports history and spray some damn good air freshener on the stench of losing.
Yeah, the stink is still lingers. The Bucs (7-7) got off to such a horrendous start to this season that fans never got to see the team perform in truly high-pressure, post-Thanksgiving situations. But, man, Joe will not hesitate to type that Arians has changed the culture.
Things aren't what they used to be around here when Team Glazer dropped a bag of loot in Arians' lap 11 months ago.
The head coach managed to dismiss a bag full of dead-weight players and lead the team to an improbable second-half turnaround that shows the team believes in its coaches. It's a unified group.
No, it's not perfect, and Arians and friends made critical screw-ups in personnel decisions before and during this season. And some of those possibly cost the Bucs a playoff berth. But Joe's going to give Arians the benefit of the doubt overall.
The Bucs look a lot better and it all just feels a lot better.
There's also lots of salary cap flexibility to get things right in the offseason before the annual gamble that is the NFL Draft, something Arians hasn't been very good at through his head-coaching career.
Joe thought Arians might have lost his fastball after bad decision-making at the close of games in Weeks 2 and 3. But hey, maybe Arians needed to shake off coaching rust and get a better feel for his club.
The Bucs' 2019 Super Bowl is Saturday against the Texans in Tampa. It's set up perfectly. In comes Houston with a 9-5 record and in need of a victory in a nationally televised game with the Bucs on a four-game winning streak.
 Yeah, you can compete and lose the Super Bowl and still have a solid season.
Joe just hopes Arians finds a way to get his team to peak Saturday and let everyone at the Den of Depression leave with the feeling the Bucs laid it on the line for every snap. Win or lose, Joe has a good feeling that will happen if Arians has truly changed the culture as much as Joe thinks he has.