Texans 23, Buccaneers 20
December 21st, 2019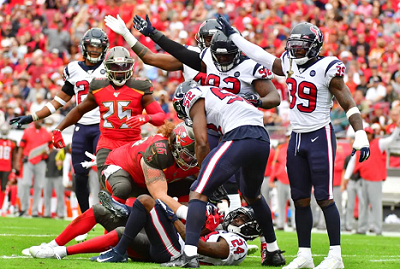 Welcome to the NFL freak show that is America's Quarterback, Jameis Winston, and the Buccaneers.
Perhaps the Bucs should use the JumboTron to offer fans mental health counseling before and after games? Might as well throw in halftime, too.
There's really no better way to describe Jameis. The guy's a weird football circus act. Nobody digs a crater — and digs out of it — like him.
He's brought excitement to the Den of Depression, though it's best served with a side of Valium or a four-pack of Tropic Pressure from Big Storm Brewery. Jameis keeps improving every aspect of his game, including giving the ball away.
With 23 picks in his last 10 games and 28 on the season, Jameis also is likely to lead the NFL in passing yards and the NFC in touchdown passes.
Yeah, the Bucs lost today, but Joe loved what the defense turned in. They couldn't overcome Jameis' turnovers and Cameron Brate's butter hands, but the defensive production was consistent and good enough to win most games. And they did it against a good football team.
Kudos to Jason Pierre-Paul coming alive with three sacks. Joe was impressed. As good as JPP was last season, he didn't close 2018 out well.
Ronald Jones had his first career breakthrough run and Jameis spread the ball around rather well to a cast of fill-ins and his tight ends. Still, that sputtering Bucs running game is a major issue. The Bucs failed on a 4th-and-2 run and on 3rd-and-short twice. Those plays very well could have been the ballgame. Outside of his big run, Jones had 13 carries for 28 yards.
Nicely done on the pick and long return, Jamel Dean, just a handful of days after your head coach made fun of you publicly for having K-Y hands.
Next up is the Falcons and a chance to go 8-8 and close out the season at the Den of Depression, one week from tomorrow.