"Standard Of Performance"
December 7th, 2019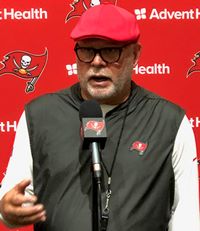 Hall of Fame general manager Bill Polian talked a bit this week about knowing his former co-worker, Bucco Bruce Arians, for more than 25 years.
Following a Wednesday chat with Arians, Polian emphasized to his SiriusXM NFL Radio audience that they can be certain Arians is not talking to his Bucs team yet about opponents; he's coaching purely on "standard of performance."
Polian explained that's a foreign concept to most rookies and many young players and Arians has plenty of them contributing as tries to change/build the culture and focus of the entire team as a first-year head coach.
That got Joe thinking about how quarterbacks coach Clyde Christensen recently called Arians a Father Dungy clone with foul language. Long-time Bucs fans will remember Dungy was all about that standard of performance during his first Bucs season as he clung tightly to that while the team struggled and turned things around later in the year.
As far as a work rate standard, Arians also explained this week (Joe's notes don't reference which radio interview) that the young Bucs secondary is actually coming in at 5:30 a.m. for deeper film study with Todd Bowles. Fans have heard about the extra sessions but that was the first time Joe heard an actual time.
It's wonderful to hear all the happy talk, but Joe needs to see a strong finish to this season — and easy schedule — to become a true believer.