Shaq Barrett's Game-Saving Play
December 8th, 2019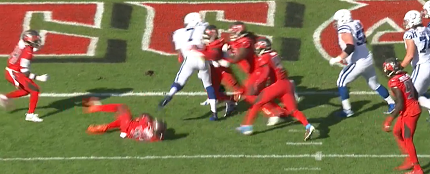 What a work of art, a true piece of football beauty.
Shaq Barrett's heroics at the close of halftime likely won the game for the Bucs after Lavonte David was juked out of his cleats by Colts QB Jacoby Brissett.
Just look at the photo above. That's linebacker Barrett drilling Brissett at the 1 yard line preventing him from stretching into the end zone, which forced a Colts field goal on the next play instead of a touchdown to end the half.
That's a key four-point swing and the Bucs won by three.
What made this play special was Barrett was lined up on the left edge, the opposite side of the play. He weaved through heavy traffic relentlessly to get back to Brissett and hit him enough to prevent him from stretching for the score.
It's the kind of play that will rack up even more cash this offseason when Barrett becomes a free agent.
Special stuff, the kind of play that gets forgotten too easily.
Congrats to Barrett on his half-sack today, which jacked his season sacks total up to 15. Warren Sapp's Bucs season record of 16.5 is just a couple of plays away.