Nice Guys Do Not Finish Last. Lee Roy Selmon Remains A Great Example.
December 5th, 2019
Podcast (toddcast-todd-wright-podcast): Play in new window | Download | Embed
Subscribe: RSS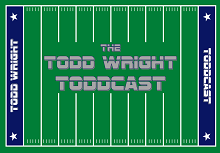 In episode 67 of The Todd Wright TODDcast, Todd congratulates Lee Roy Selmon for being one of the NFL's Top 100 and why it was appropriate that Selmon got in while another former Buccaneers HOF member did not. Todd also takes a shot at agreeing or disagreeing with PGA Tour player Justin Thomas' comments about Thanksgiving dinner. The Todd Wright TODDcast is presented by Full Torque Fitness and Pin Chasers.
.
Click above to listen or to download. Or listen on Stitcher here, Google Play here, and on other platforms.
PRESENTED BY