Last Call For Devin White
December 29th, 2019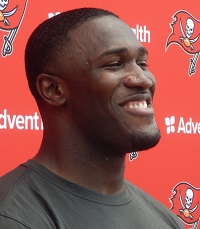 So how has the Buccaneers' rookie savior linebacker, Devin White, really performed when studied through the lens of being the No. 5 overall pick it the 2019 NFL Draft?
Joe can't avoid evaluating White without including where he was drafted. Top-5 picks are supposed to make multiple Pro Bowls in their careers and have defining impacts.
White closes out his rookie campaign today with big highs and lows, and injuries and illnesses in his first-year resumé.
He's a good football player, as Joe expected him to be. But White has to become great for him to be worth the draft pick. At 21 years old, he's off to a solid start.
The guy Joe loudly wanted the Bucs to draft instead of White was Jaguars defensive end Josh Allen. He's got 10 sacks and 21 quarterback hits, one more than Jason Pierre-Paul had last year. Allen is a Pro Bowl alternate this season, despite playing for a garbage team in a tiny market.
That's not Joe spewing a sour attitude, just holding White to a high standard that should be there for any No. 5 overall draft pick.
The Bucs say White is everything they thought they were getting with the pick. So that's a bit comforting and there's no reason to think he won't improve significantly next season.
Still, Joe wants to see a big finish today from White. He should be extra fresh after missing time this year on those 21-year-old legs. There should be nothing stopping White from turning in one of his best games.
Falcons tight end Austin Hooper was in the Pro Bowl last season and arguably is playing better this season. White was drafted, in part, because he could cover tight ends. Joe would love to see that happen today, and it likely will be key to a Bucs victory.